General information
Recreation center «Electron» is located on the shore of Lake Beloe in Brest district and it's a part of the Resort lake Beloe. It's a perfect place for a family holiday, a measured outdoor recreation. There is the health resort «Berestie».
The recreation center is located in a pine forest on the territory of the republican landscape reserve «Pribuzhskoe Polesie», its buildings are surrounded by tall pines. The living building mainly with two-room appartments, and also several summer houses are equipped for guests. Each room has a private kitchen.
Barbecue area, playground, sports playground, billiards and table tennis, bicycle rental and sports equipment - guests will not be bored! There is a sandy beach with a boat station near. A pleasant bonus for guests is the free rental of catamarans, boats and sports equipment. The lake is rich in fish, so that a successful fishing will be a pleasant component of the rest.
Reservoirs
Recreation centre «Electron» is located on the bank of lake Beloe with the area of 0,5 êm². The distance from the centre to lake is - 20 m. Lake Beloe through the channels is connected with lake Chernoe. Â 2 km from lake Beloe there is Lake Tainoe.
Foundation year - 1968
Year of reconstruction - 2015
The quantity of rooms - 118 beds.
Checkout time

Check-in at: 14:00
check-out at: 12:00
for every 24h

Children are accepted to live any age
Occupied territory - 1.80 he.
Territory security: territory is fenced, guarded by the health resort guard service
recreation center Electron is situated at the distance of: city Brest - 31km ,city Zhabinka - 63km ,city Minsk - 380km
Geographical coordinates - 51°49.374' N, 23°42.483' E
Schedule of administrative and rescue services
administration: 08:00 - 16:45, days off: Sa, Su (living building)
reception desk: 08:00 - 16:45, days off: Sa, Su (living building)
person on duty: 24 hours, every day (living building)
The period of operation Electron
| Jan | Feb | Mar | Apr | May | Jun | Jul | Aug | Sep | Oct | Nov | Dec |
| --- | --- | --- | --- | --- | --- | --- | --- | --- | --- | --- | --- |
| | | | | | | | | | | | |
Location - recreation center Electron: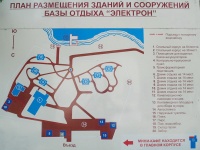 Meals
Kitchen facilities
refrigerator
tableware
elektrocooker
freezer
Catering is available in the cafe
Cafe
building - living building
total beds - 60
Operation time - 09:00 to 22:00